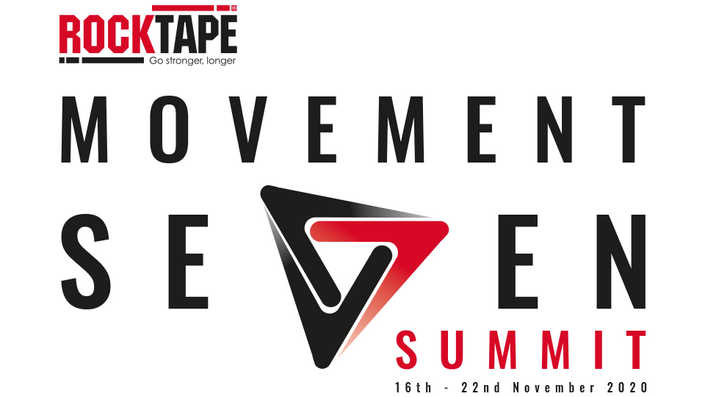 RockTape Movement Seven Summit 2020 - WATCH NOW
Seven Sessions of Movement and Manual Therapy from Seven of RockTapes Finest
Event Date: Ready NOW
Featuring: Steve Capobianco, Ethan Krieswirth, Joe Lavacca, Oliver Derigs, Steve Stahl, Daniel Lawrence, & Leon Staege
The 7 Sessions:

Event Description: Encounter RockTapes Best Global Educators and spend seven thrilling nights with them this winter. Let us come to you at a convenient time, starting from Monday 16th November 2020 and remaining available for you at no extra cost.
At scheduled times each day the presenters will be taking questions from you live from their home countries, providing you with a live Q&A webinar experience with less of the connectivity issues associated with a fully live broadcast.
Our Mission: All of the sessions focus on actually showing you movement and manual therapy. We keep the PowerPoint and Keynote to a minimum and focus on delivering lots of practical demonstrations from our elite practitioners. All of this content is packaged into an affordable and convenient bundle that you can access online at any time after the premier events.
Designed for: Professionals who help people improve movement and manage pain. The content is also ideal for students entering the therapy and fitness professions. The content may also appeal to the well-informed athlete or patient looking to enhance their performance or self-management.
Your Instructor Team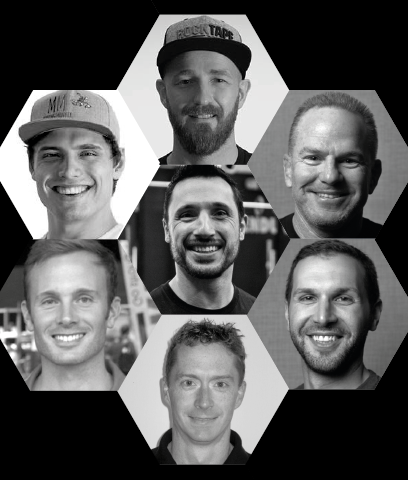 Dr. Steven Capobianco (Capo) holds a B.A. and M.A. in Kinesiology and Exercise Science in addition to a doctorate in Chiropractic Medicine. Steve is a practicing sports chiropractor, currently holding a Diplomate in Rehab from the ACA, in addition he is a Certified Chiropractic Sports Practitioner, and a Performance Enhancement Specialists from the NASM. Steve launched a sports specific rehab and performance institute called ProjectMOVE in Denver Colorado that focuses on identifying motor control dysfunction in an attempt to enhance human performance from the professional athlete to weekend warrior.
Dr Capobianco is an avid athlete with a passion for sports. He has spent 25 years competing in ice hockey, lacrosse, triathlons, adventure racing, and natural bodybuilding. Steve was the Medical Director for Rocktape, pioneering evidence-informed education development that challenges the status quo in movement learning. He authored the Fascial Movement Taping manual and lectures world-wide on the movement based taping technique. Steve is now the Senior Director of Medical & Fitness at Implus.
Dr Capobianco will kick off the Movement Seven Summit on the 16th of November with his session on the Mind-Body Approach to Manual Therapy with the Embodied Care Model.
Dr Capobianco challenges the dualistic approach to traditional manual therapy whereby there is an inherent separation of the biological from the psychosocial aspects of patient care/recovery. An interoceptive model will be presented to provide an actionable mind-body system to improve patient outcomes. Dr Capobianco will highlight some of the tools and education models and demonstrate how we put it into action.
---
Dr Ethan Kreiswirth received his undergraduate and graduate degrees from California State University, Dominguez Hills. He has earned his PhD in Athletic Training from Rocky Mountain University of Health Professions in Athletic Training. His current research is, The Epidemiology of Musculoskeletal Injuries among Brazilian Jiu Jitsu Fighters. Ethan is the owner of Kreiswirth Sports Medicine Systems, LLC, which delivers didactic and clinical programming of sports medicine needs. Ethan is the Medical Director and Coordinator for the International Brazilian Jiu Jitsu Federation (IBJJF). Ethan's additional positions include Medical Director of the All American Heavyweights Boxing Team, in conjunction with the 2012 USA Olympic Boxing Team, 11 years as the Head Athletic Trainer of California State University, Dominguez Hills (CSUDH) from 1997-2008, where he also served as adjunct faculty in the Kinesiology Department. Ethan has been a contributing author in peer-reviewed journals' such as International Journal of Athletic Therapy and Therapy, Journal of Athletic Training, and Athletic Training and Sports Health Care. Ethan works alongside Steve as the Education Director at RockTape.
Ethan will deliver a much anticipated session on The Spring Mechanism of the foot: Function, Assessment and Treatment. Recognition of the foot spring mechanism is essential to create optimal gate efficiency. Knowledge of foot position and its' contact with the ground is needed to intervene with treatment concepts to increase foot capacity over time. In this presentation Dr Kreiswirth will discuss how to assess foot mechanics as they relate to ground forces and providedemonstrations of foot treatment concepts for better efficiency.
---
Joe LaVacca is a Physical Therapist and Functional Strength Coach, Joe also holds the title of Orthopedic Clinical Specialist, in addition to numerous other movement certifications including FMS/SFMA, and FRC/Kinstretch. All of which have helped shaped Joe's unique view on movement. Born and raised on Staten Island, NY, Joe made his way up to CT for graduate school where he graduated from Sacred Heart University with a Doctorate in Physical Therapy and a Bachelor's in Exercise Science.
Joe has taught throughout the country both with continuing education providers and on his own since 2011 and has recently opened his own practice in NYC, Strength in Motion Physical Therapy, with a goal of creating individualized care through education and empowerment.
Don't miss Joe LaVacca present his session on Learning through Subtraction: using an SFMA/Test and ReTest strategy to improve movement performance.
---
Oliver Derigs is the managing Director of the brand Rocktape in Europe & Asia, physiotherapist, personal trainer and international speaker. He developed the concept of RockFloss that is applied worldwide. After his active career in competitive sports (ice hockey), Oliver aims to support all athletes to improve their performance through modern concepts in rehabilitation. In addition to writting various professional articles. Oliver also develops digital education and will be delivering his popular course on Taping and Flossing Strategies in Pregnancy.
---
Steve Stahl is a Sports Physiotherapist and has over 20 years of clinical experience. He is a Director of RockTape in Australia and is the lead instructor for the Australasian team of RockTape instructors. Steve owns and runs the Waurn Ponds clinic of the Corio Bay Health Group in Geelong, and works in the clinic from Monday- Thursday, meaning he has plenty of clinical time applying RockTape and using the various RockTape products on his patients! This ensures he stays up-to-date with all things patient-related. If Steve is not in the clinic or working on RockTape related matters, you will find him in the surf around Bells Beach, or running the nearby trails. Steve will be delivering a presentation titled Running from Seven Injuries - How can you help?
Despite all that we do to avoid it, many runners are frequently battling with niggles as they complete their weekly mileage. And we all know that telling a runner to rest is a likely to be a waste of breath! Unless it's a stress reaction/fracture, complete rest is rarely required. A better approach, and one that has more likelihood of success, is to help them to keep running whilst they work through the issues with reduced mileage, localised treatment and some remedial exercise. This session will demonstrate a number of different techniques that can help you manage seven of the most common running injuries that your clients may present with.
---
Daniel Lawrence is a UK Chartered Physiotherapist, Published Author (Lower Limb Tendinopathy) International Lecturer and creator of The Physio Channel on YouTube. Daniel holds separate post-graduate qualifications in Musculoskeletal Medicine and Education. Having completed 10 years as a University lecturer and then running a state-funded (NHS) clinic, Daniel now combines study, teaching, writing and video creation. Daniel is also on the board of directors for RockTape UK, StickMobility UK Flow UK . Daniel has delivered lectures and workshops on multiple subjects throughout the UK including, Congresso International de Terapia Manual, Festivalul International de Fizioterapie Is Recuperare Medicala, Polish Fascia Symposium. Therapy Expo UK, COPA UK, private physio groups, the Shoulder Symposium, South West Seminars and the British Fascia Symposium 2018. Daniel frequently attends conferences as a guest lecturer and delivers bespoke training to professional groups. Daniel likes to cycle go to the gym and loves reading and studying. Daniel will be presenting an evidence informed practical session on the use of manual therapy to help patients with lumbar radiculopathy.
---
Leon Staege is a German Physio, Author of the book 'Calisthenics X Mobility' and Founder of the Moving Monkey Academy. RockTape are lucky to have Leon as part of the instructor team. Leon has a strong and charismatic presence on social media Instagram: @moving.monkey - https://instagram.com/moving.monkey - We are all excited to see what Leon brings to the Movement Seven Summit. with his session titled. Monkey Movement Mobility Taping Course - A mixture of taping application and the combination with movement and mobility drills.
Course Curriculum
Running from Seven Injuries - How can you help? with Steve Stahl (AU) Released 16th November
Available in days
days after you enroll
The Mind-Body Approach to Manual Therapy with the Embodied Care Model with Steven Capobianco (US) Released 16th November
Available in days
days after you enroll
Learning through Subtraction: Using an SFMA/Test and ReTest strategy to improve movement performance With Joseph Lavacca
Available in days
days after you enroll
Frequently Asked Questions
When does it start?
All seven sessions will be released on the 16th of November 2020 and then each presenter will be available for Q&A at scheduled times. The sessions are recorded and you get to keep the access so you can rewatch them to remind you of any clinical gems and treatment ideas the presenters share with you.
How long do I have access to the course?
How does lifetime access sound? After enrolling, you have unlimited access to all 7 sessions for as long as you like - across any and all devices you own. Just as long as you can access teachable.com
Is this in English only?
All presenters will be presenting in English Language.